RIM BlackBerry Kickstart heading to T-Mobile USA
The BlackBerry Kickstart, RIM's new customer friendly clamshell BlackBerry handsetis something of a design that will either be loved or hated by BlackBerry users; while it's looking at the design inspirations such as climbing gear, sun glasses shows that RIM it putting an "urban style" slant on their new clamshell handset.
Clearer details have emerged on the Blackberry Kickstart show that RIM has packed their latest handset with a 2 megapixel camera, WiFI, quad-band GSM radio 850/900/1800/1900Mhz, and thrown a 3.5mm headphone jack into the mix. The Kickstart's interior display is QVGA with 240 x 320 resolution white the external is 160 x 128 resolution.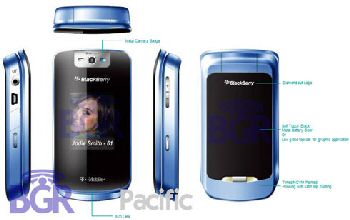 The BlackBerry Kickstart's SureType keyboard is what is apparently known as a next-gen double letter keyboard, and sports BlackBerry OS 4.6. The Kickstart is expected to launch in a variety of colours, while the external screen is monochrome but should glow from the bezel with soft colours. Expect to see the BlackBerry Kickstart coming out of RIM around September and on T-Mobile USA.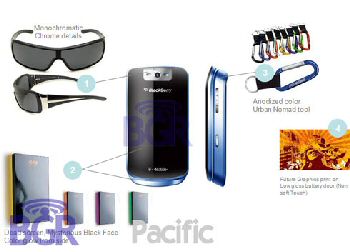 Source — BGR