Goldstriker brings us the Solar Star Edition, a different kind of iPhone
Goldstriker brings us this stunning ultra luxurious take on the Apple iPhone, and while at first glance it looks much like a Colorware's work, but if you take a closer look you will realise that it is a completely different kind of iPhone handset.
The iPhone Solar Star Edition has been coated in Balloon White paint, which is the same paint as used on a Lamborghini Gallardo, so makes the handset look a little simple, but when you take into consideration the enhancement of 24-carat gold it emphasises that the Solar Star Edition isn't just your average Joe iPhone handset.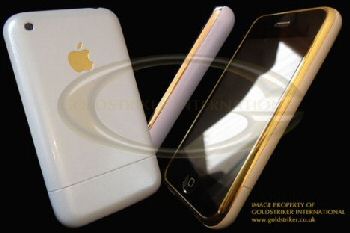 The iPhone Solar Star Edition iPhone from Goldstriker will hit your pocket for a tidy £749.95, that's roughly $1500, and for shelling out your cash you get a 16GB version running a the unlocked v1.1.4 firmware. An Apple iPhone that's not for everyone, a piece of mobile luxury that if you can afford should bring you some upper crust status with all that luxury gold enhancement.
Source — uberphones