Goldstriker bring out 24-carat Black Beauty Apple iPhone
Oh yes the guys at Goldstriker have done it again, and this time it's an absolute stunner of an Apple iPhone. Only a few days ago we posted about the Goldstriker Solar Star Edition Apple iPhone, well now Goldstriker bring us yet another luxurious take of the Apple iPhone.
Goldstriker's beautiful Black Beauty Edition Apple iPhone, and as with most Goldstriker products relies on glittering gold to bring in that luxury, such as the rear Apple logo and front bezel which have been adorned in 24-carat gold.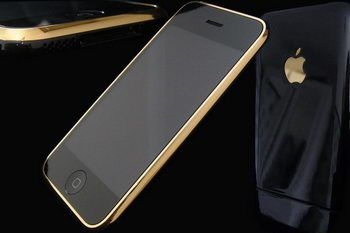 As for the rest of the iPhone handset, well that's just black, well not just black, actually "Jaguar midnight black metallic." Yes as you may have guesses Goldstriker had made the Black Beauty Edition to match with Jaguar cars.
Stuart Hughes, who customised the handset himself to match perfectly with his Jaguar says: "I quite liked the 1st black one we did to match the Bentley colour range but hell no, I can't afford a Bentley so this one will do me just right for now."
Have a Jaguar and want an Apple iPhone to match? Well the iPhone Black Beauty begins selling at £749.95, that's around $1500 for all our stateside buddies, and can be purchased from the Goldstriker website.
Source — mobilewhack