Debate: Do you think the Apple 3G iPhone can beat the BlackBerry Bold and HTC Touch Diamond?
Put up against each other which would you prefer, the Apple 3G iPhone, the BlackBerry Bold/9000 or the HTC Touch Diamond? Could you make a choice between there three upcoming mobile phones?
Three mobile phones for you to generally ponder over and maybe let us know how you feel about them as it will be you people who will be buying the Apple 3G iPhone, the BlackBerry Bold/9000 and the HTC Touch Diamond once they hit the shelves. And so you know just the ones we are on about we will speak a little about each of them in turn and have an image for your viewing pleasure; so feel free to drop us a comment anytime.
Ok, let's begin with the Apple 3G iPhone; we all expect the Apple 3G iPhone to hit somewhere around June and is rumoured to be launching at the WWDC conference, but is the 3G iPhone the phone to end all mobile phones? Apparently Apple's new gem will come to us in 3 sizes, the 8GB costing $399.00 , the 16GB costing $99.00, and the 32GB with a price tag of $599.00, although the 32GB version has yet to be confirmed.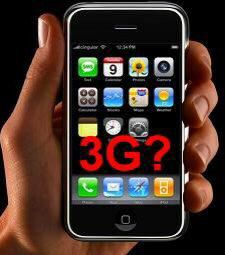 It is also presumed that Apple is to trim off somewhere in the region of 2.5mm off the casing which will undoubtedly make the 3G iPhone so much slimmer, casing material is also rumoured to be different. Apple are apparently putting a S-GOLD3H 3G chip inside the 3G iPHone which should gain HSDPA speeds up to 7.2Mbps although not in America. There is also talk of a front facing camera which may be supported by the S-GOLD3H 3G chip, but at this time this is still only a rumour. Finally everyone will have probably read everything there is on the Apple 3G iPhone specs, so let's more onto the next mobile phone in this comparison debate.
From the guys a RIM comes the new BlackBerry Bold/9000 whether they will opt to just call it the Bold or 9000 is yet to be seen. Guess we'll refer to this one as the Bold for now; anyway, the Bold is a new messaging smartphone from RIM which features a stunning TFT display that has the same half-resolution of that of the Apple iPhone, and a fully QWERTY keyboard. Rim's BlackBerry Bold will run on the BlackBerry OS 4.6 which is the latest version, and has a 1GB built-in memory and also the trusty old microSD card slot which will also support 8GB microSDHC and a promise of 16GB support.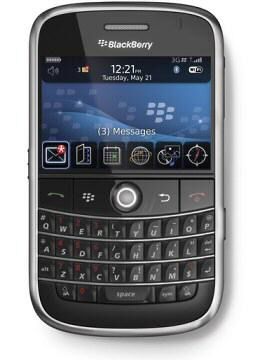 The Bold has a 624MHz processor to make it run smoothly or so we have been informed, and is roughly about the same size as the Blackberry 8830. The Bold is said to be the first BlackBerry to feature tri-band HSDPA, quad-band GSM/EDGE and integrated GPS receiver and WiFi. A few specs for you to chew over while making you decision: 3G network UMTS 850/1900/2100, 2G network GSM 850/900/1800/1900, Trackball navigation, MP3 and Polyphonic ringtones, wallpapers, Photocall and Phonebook, 3.5 jack, 128MB built-in memory, Bluetooth 2.0 with A2DP, SMS, MMS, Email, games, 2 megapixel camera, BlackBerry maps, and measures 114 x 66 x 14mm with a weight of 133 grams.
Ok moving onto the last of the tree, the HTC Touch Diamond. It has to be said the HTC Touch Diamond is visually stunning with its HTC Touch 3D interface which is also known as the HTC Manila. The HTC Touch Diamond has been touch optimised and is powered by Windows Mobile 6.1 Professional, and incorporates a stunning 2.8 inch VGA display. The Touch Diamond is only 11.5mm thick which will no doubt please the masses. The Touch Diamond incorporates a built-in accelerometer of similar designs to that of the Apple iPhone and allows for automatic screen rotation changing the screen from portrait to landscape by simple turning the handset.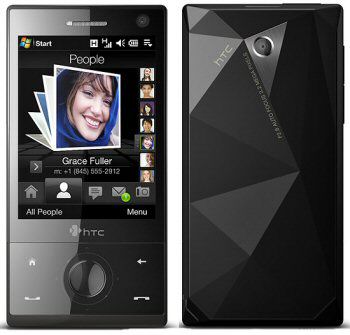 The HTC Touch Diamond also comes with a 3.2 megapixel camera with auto-focus, GPS receiver and WiFi. It runs on a Qualcomm MSM7201A 52B Mhz processor and has 192MB DDR SDRAM, FM radio with RDS and 4GB memory. However a few downsides to the HTC Touch Diamond are that it is tri-band only GSM support. There is to be two versions released in Europe and Asia and another version for America, and there's the other down side it only spores a 900 mAh battery. HTC's Touch Diamond is due to hit Europe and Asian shores in June 08 and other areas by the end of the year, and will have specs such as: 3G network HSDPA 2100/900 and 2G network GSM 900/1800/1900 for Europe and Asia, 3G HSDPA 580/1900 and 2G GSM 850/1800/1900 of America. Touch-screen is 2.8 inches TFT with TouchFLO 3D finger swipe navigation, handwriting recognition, MP3, WAV, WMA and Polyphonic ringtones, miniUSB, SMS. MMS, Email and instant messaging, secondary VGA videocall camera, Java MIDP 2.0, Pocket Office, with measurements at 102 x 51 x 11.5mm and weighing in at 110 grams including battery.
Well there they are all three, which one would you prefer to have in your hand? Which do you think would be the best performer, or best looking? Maybe you have your own reasons for choosing the one you like the best so why not hit us up and let us know. So the question is which would you choose out of the Apple 3G iPhone, the BlackBerry Bold/9000 and the HTC Touch Diamond? I look forward to receiving your comments.
Source — product-reviews