The i-mate Ultimate 9502 unlocked mobile phone
i-mate has brought out their Ultimate 9502 mobile phone, a no nonsense messaging handset with a high resolution touch-screen, tri-band 2.5G, WiFi device which also incorporates quad-band GSM with EDGE, and Bluetooth 2.0+EDR, along with integrated GPS for navigation, mapping and location based services.
The Ultimate 9502 comes unlocked so the user can use with a SIM card from Europe or UK GSM networks such as O2, T-Mobile, or Vodafone, and features Microsoft Windows Mobile 6.0 professional, 256MB ROM and 128MB RAM, 2.8 inch VGA Touch-screen display, quad-band 850/900/1800/1900, tri-band UMTS/WCDMA, 2100/1900/850, 3.0 megapixel camera, microSD card slot, and measures 116 x 60 x 17.8mm.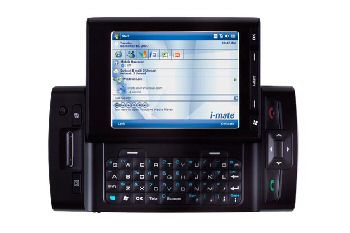 PRICE: £425.49 inc Vat.
For further information or to purchase the i-mate Ultimate 9502 mobile phone please see here