E55 mobile phone soon to be released by BenQ
A new mobile phone has recently surfaced on the internet, the soon to be released E55 mobile phone by BenQ, on the internet though only in a low-res image and a few skimpy details. So, BenQ's E55 mobile phone is of a clamshell design, a pretty stylish design probably styled to attract those users who love the feel of a stylish flip phone.
Although not much is known about the E55 among the known features of this new BenQ mobile handset there is tri-band GSM connectivity EDGE and GPS, 2100MHz WCDMA/ 3Gfor faster data transfer speeds, its hands-free, and has Bluetooth 2.0 with A2DP, and that really is about all the details known.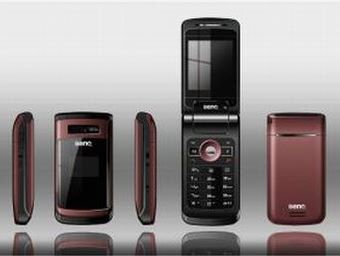 But we can hazard a guess can't we? As much detail is missing about this mobile phones internal display for instance, it does seem somewhat larger for a clamshell and probably measures somewhere in the region of 2.4 or even maybe 2.6 inches supporting possibly a QVGA 240 x 320 resolutions. We can also seen in the image a smallish external screen, nothing unusual there as most screens of this type are small. We also note a photo camera but it is somewhat difficult to judge its performance from an image so it remains a mystery for now. And of course as with most of the details on the BenQ E55 clamshell mobile phone, the price is also a mystery along with its availability.
BenQ is based in Taiwan and generally concentrates its activity on manufacturing LCD displays, consumer electronics and notebooks, and only having the mobile phone division as a secondary department. Although way back in 2006 BenQ purchased the mobile handset division of giant German conglomerate, Siemens. Though manufacturing mobile phones may not be BenQ's major concern it has still managed to bring up to now several interesting mobile phones into play such as the highly fashionable S7 and T60 models and the M7 roughed candy-bar, and also the wonderfully weird shaped SL98 slider mobile. So maybe the E55 will be worthy of joining their ranks, but until more info comes out and something official we'll just have to wait and see.
Source — softpedia