Samsung F400 Premium Dual Slider mobile phone launched
Okay, so onto the Samsung F400, it is a dual slider music mobile phone which incorporates Bang & Olufsen ICEpower technology, (DNSeTM) Digital Natural Sound engine 2.0, 3 megapixel camera with AF LED Flash, all encased in a 16.9mm thick casing, and yes it's hardly a slim RAZR type but still slim and neat when it comes to mobile music phones.
Other great features that can be found with the Samsung F400 mobile music phone are, dual stereo speakers, 3.5mm headphone jack, 2.2 inch 262K TYT display screen, Bluetooth 2.0, FM radio with RDS, USB 2.0, HSDPA network support, and the faithful old 1GB microSD card in-box with support for up to 8GB memory cards. Also notable about the Samsung F400 are a few features that have been well sort of copied from a couple of rivals.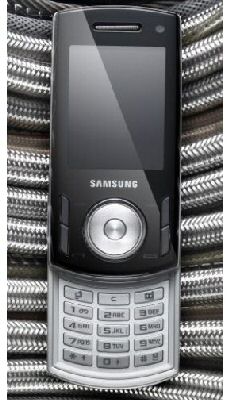 The dual sliding design of the Samsung F400 was first seen on the Nokia N95, and Samsung applies the same technique with its F400. When the front slides up it becomes a metallic keypad equipped mobile handset; slide it back down and the music functions come into play and add to the music hot-key which the silver wheel navigator is in the middle of the mobile phone.
Also the Samsung F400 incorporates Shazam, the music recognition application which is similar to that of the Sony Ericsson's TrackID which allows a user to find out more about song clips recorded from the FM radio. By May this year France will be the first to gain the Samsung F400, but by later this year the Samsung F400 should be rolling out across the world markets. As yet though there is no word on price, but maybe if it is inexpensive it may just do quite well.
Source — unwiredview