HTC Touch Diamond Palls up camera-wise with the Apple 3G iPhone
The latest high-end smartphone unveiled by HTC is of course the HTC Touch Diamond; well apparently the HTC Touch Diamond is to have a lens camera similar to that of Apple's second generation iPhone, which according to popular rumours should be released sometime in June or July, (this is of course presuming said rumours hold some truth in the matter).
Digitimes, quoting the Chinese Economic Daily News website has said HTC has reportedly signed an agreement with Largan Precision, who apparently will provide camera lens for all HTC Touch Diamond mobile handsets to come on the market.
Based in Taiwan, just like HTC, Largan Precision has a huge experience in producing photo camera lens, and supplies the lens which is presently integrated by Apple in the Apple 2.5G iPhone. Another thing, it is almost certain Largan Precision will supply the lens for the Apple 3G iPhone as well. Taking this into consideration it should mean that the new Apple 3G iPhone camera should be pretty much just the same as that of the 3.2 megapixel camera packed into the HTC Touch Diamond.
Back on the 6th of May came the official announcement of the HTC Touch Diamond which seems to be their most advanced mobile smartphone to date with the HTC Touch Diamond sporting amongst other high-end features, a unique TouchFLO 3D interface, tri-band GSM and Dual-band HSDPA connectivity, a 2.8 inch touch-screen display with 240 x 480 pixel resolution, handwriting recognition, WiFi, GPS, Windows Mobile 6.1, Opera Web browser, music and video players, and 4GB of built-in memory, and all this is packed into a stylish, slim casing with a stunning diamond design on its rear.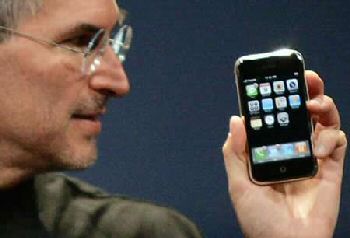 The Apple 3G iPhone on the other hand is to apparently have similar features along with a wider display, which should be in the region of approximately 3.5 inches. So I would say it's fairly clear that the Apple 3G iPhone and the HTC Touch Diamond are going to be in direct competition with each other on the lucrative" Touch-screen mobile phone market."
At this moment it is impossible to judge which of these two mobile phones will actually be the most successful, no doubt only time will tell, and I reckon what it all boils down to in the end is the good old Windows verses Mac war, what do you think?
Source — softpedia