Today Screen Functionality on Apple iPhone from Intelliscreen
Unfortunately the Apple iPhone lacks many features that have come to be accepted as standard by many mobile phone users, and one of the features the Apple iPhone is lacking in their first offering is a functional "Today Screen" whereby at-a-glance useful information is viewed on the display by the user. However, being lacking doesn't mean the first rendition of the iconic Apple iPhone can't have one, as the prolific iPhone developer community has easily proven in the past, and come up with many new developments.
So enter the intelligence of Intelliscreen, who along with a touch of jailbreak wizardry can put email, SMS text messages, news, calendar information, and weather direct on the Apple iPhone's locked-screen which is the "Slide to Unlock" screen if you like. Intelliscreen will display the most up-to-date data in categorised panes on a user's Apple iPhone locked-screen. So, in other plain and simple terms, with the application installed, you don't need to unlock your phone to access this data.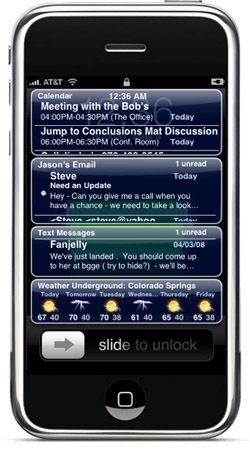 Each of Intelliscreen's panes allows the user to scroll through current information conveniently on the iPhone's display while giving the user the option to launch the mail, SMS text messages and calendar along with many other applications with a quick swipe through the information pane.
Of course the user will require to jailbreak their Apple iPhone to allow Intelliscreen to work. So just hit this friendly Apple iPhone Jailbreak Guide and get jiggy with this great 3rd-party Apple iPhone application. Next add the http://www.intelliborn.com/repo/Intelli.plist application repository to your Installer.app's "Source" list. Then locate "Intelliscreen" and simply install it; however, please be warned that this is only beta software.
Source —intomobile