HTC estimates to move 2 million Diamond mobile phones this year
I think it is obvious to most that the newly announced HTC Touch Diamond is at least on par with say the Apple iPhone appearance wise, both look stunning, although it isn't just about those looks, it's about quality specs such as the HTC Touch Diamond's VGA screen and super cool UI, and I would imagine it is hard not to realise the HTC Touch Diamond will do just as well as the Apple iPhone in sales.
So, realising this it doesn't come as that much of a surprise to learn that HTC has high hopes of moving 2 million HTC Touch Diamond units this year. Actually, HTC already has Taiwan based Chunghwa Telecom, who have plans to sell a total of 200,000 HTC Touch Diamond mobile handset in 08, to already place an order for between 20,000 and 30,000 of the sleek and sexy looking Diamond.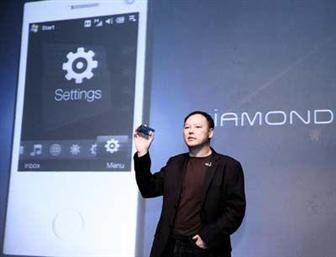 So if you work on that figure of pre-orders from Chunghwa Telecom, imagine just how many will be enough for the likes of say Orange, Verizon, AT&T, T-Mobile and Vodafone? Oh, by the way, just so you know and can have a rough idea just how lucrative the Taiwanese mobile market is the population of Taiwan is around 23 million people.
So the likelihood of HTC actually making their 2 million sales of HTC Touch Diamond handsets is more than realistic I would say considering HTC has sold a total of 2,000,000 HTC Touch Smartphone's there's no reason why the HTC Touch Diamond shouldn't follow that trend. What do you think? Answers on a postcard to…Oh, no hang on, maybe just leave a comment here.
Source — digitimes