WND believes two are better than one further with Wind DUO 2100
Another good mobile phone from WND is the Wind DUO 2100 mobile phone, well twin mobile phone actually. The MND Wind DUO 2100 is in WND's words, 'A low cost, no frills, dual face mobile phone designed for users that carry two GSM handsets'
The Wind DUO 2100 has been crafted as a dual face bar design to be a low cost sporty and rugged mobile handset, which melds two screens, two keypads, and two SIM cards together as one single handset. The WND Wind DUO 2100 will synchronise personal and business life, and can be used seamlessly across continents, can share data between opposing sides in a snap, and has a 2.0 megapixel camera.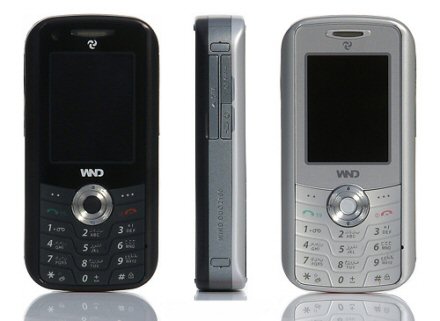 The WND Wind DUO 2100 is tri-band GSM 900/1800/1900 MHz, measures 98 x 47.5 x 17.3mm, weighs 95 grams, 240 x 320 pixels 262k colour TFT screens, microSD both sides, midi and mp3 ringtones, Bluetooth 2.0 with A2DP, 3 games, clock, alarm, calculator, vibration, 3 hours talk time and 180 hours standby time.
The WND Wind DUO 2100 is similar to that of the WND Wind DUO 2000 which is also a dual screen, dual keypad, and dual SIM mobile phone, though the Wind DUO 2100 is a step up with a few extra features, and available in black/silver pairing. Again two mobile handsets fused together back-to-back to make one single mobile phone for your busy lifestyle. I still have the same problem with the 2100 as with the 2000 and that is the possibility of the other face phone ringing in my ear when I'm speaking on the opposite phone.
Source — WND