3G Apple iPhone pricing to be determined by AT&T perhaps
Obviously Apple has the high ground and control in telling the likes of AT&T what they can and can't do or what price they should be charging for the present generation Apple iPhone, however, apparently the 3G Apple iPhone (when it arrives) may just usher in a new era of carrier based Apple iPhone pricing.
This apparent speculation as to whether AT&T will actually be setting the 3G Apple iPhone price comes via an AT&T executive's lax-lipped statement. Speaking at the Reuters Global Technology, Media and Telecoms Summit, AT&T CFO Rick Lindner was caught speaking on the upcoming launch of the highly expected 3G Apple iPhone, something Apple themselves still hasn't admitted will be happening next month.
According to the Guardian who was at the summit:
Lindner said AT&T has yet to determine pricing for a hotly anticipated new version of Apple Inc's media-playing iPhone. "There's not been a product announcement. There hasn't been any pricing decision made. That's yet to come," he said.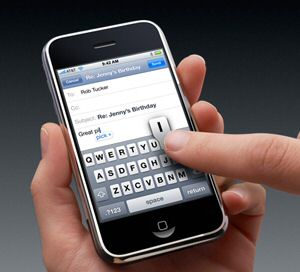 Remembering that Mr. Lindner is actually speaking about something that still hasn't seen "a product announcement" couple this with the implication that AT&T will possibly be determining pricing structure for the anticipated 3G Apple iPhone certainly makes for some juicy iPhone rumours.
Should AT&T gain control over Apple's next generation iPhone pricing then maybe customers will see a largely discounted price with a 3G Apple iPhone in offer for maybe a long term commitment from subscribers, which of course would be in line with other subsidisation rumours coming from other mobile carriers.
Obviously all this is speculation based on a few words an AT&T exec let slip, and of course subsidies would also increase the Apple iPhone's customer appeal. Although something tells me that those early iPhone adopters who have paid full price to sign a two year contract with AT&T won't be too pleased if this is true.
Let's look towards June 9th and see what happens.
Source — The Guardian via Intomobile