Samsung SGH-F480 given the Italian Job and now called the Samsung Tocco
Back during the Mobile World Congress in February 08 Samsung announced their Samsung SGH-F480 mobile phone, well during a Dali exhibition in London the Samsung SGH-F480 was given an Italian makeover and is now known as the Samsung Tocco, which is Italian for touch.
The Tocco is Samsung's latest touch-screen mobile phone, which apparently will be running with a "new and totally unique UI" which has been designed to be customised and personalised. The Samsung Tocco sports a flashy five megapixel camera, built in Access internet browser, 2.8 inch 262K QVGA LCD display, integrated FM radio along with full music functions and 240MB of internal music storage which is expandable up to 8GB via an SD card.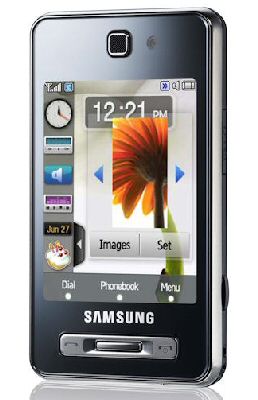 The Samsung Tocco's "new and totally unique UI" appears to be something akin to the Vista Windows Sidebar with widgets that can be moved via "drag and drop", and some of these widgets include a music player, radio player, along with other wonderful personal gear such as a birthday reminder.
The Samsung Tocco brings high end camera features like automatic face detection and sophisticated image stabiliser, and touts 7.2Mbps HSDPA, and has 250 hours standby time and 3 hours talk time.
Vice president of Samsung Mobile UK and Ireland mark Mitchinson said: "As with the extremely popular Samsung G600, we, in the UK, took the lead in the creative aspects of this inspirational phone, such as the advertising and naming of the phone, to effectively target the UK market."
The Samsung Tocco is about to get the attention it deserves just like the attention whore Samsung Soul. Samsung has launched a huge advertising campaign in the UK costing £3.5 million of which £1.5 million goes to TV advertising, £1.3 for online, £350,000 for press, £170,000 for experimental and £100,000 for online and PR. Still, as yet no price but the Samsung Tocco is expected on all networks.
Source — theinquirer