HTC P3400i PDA not so smartphone: Diamond it is not
HTC have decided to bring out an entry-level smartphone, smartphone if that's what you call it. The new handset is called the HTC P3400i PDA phone which has just been recently revealed and to be honest it is no Diamond.
The HTC P3400i does run on Windows Mobile 6 which would have been great say a year ago, now seeing as HTC have the Touch Diamond do they honestly think people will buy this model. I really do not know what to say about this phone but other than give you the specs and details, the HTC P3400i PDA phone will feature 2.8-inch touchscreen, quad-band GSM/GPRS radio, 2 megapixel camera and some pre-installed Microsoft software to help you a long the way and media playback capabilities.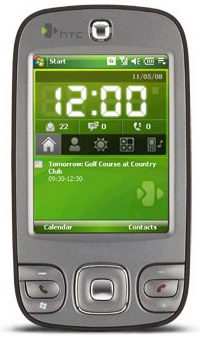 This phone is good value for money, do not get me wrong and obviously aimed at business users but I have to say business must be in dire straights to want an entry-level phone when they could have better. Will you buy this phone is something I would love to know, anyway the HTC P3400i PDA should be available by the end of this month at all authorized resellers, and the suggested price will be $488.
What do you think of the HTC P3400i PDA not so smartphone?
Source – JampBLOG