Buy Junk Food fight the Worlds Worst War on your mobile phone:Video
Tohato, a Japanese junk food maker hired Hakuhodo a Tokyo ad agency to help promote and advertise Tohato's two latest junk food products, Satan Bazooka Deadly Hot and Burning Hell Hot, hmm one can presume then these are hot stuff!
Anyway both Tohato products have a 2D barcode on the back of the packet, apparently something 83% of all Japanese have already used before. By scanning said barcode with your mobile phone you are able to enlist in one for two opposing armies who are fighting an online massively multiplayer game "The World's Worse War."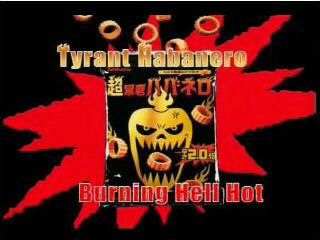 Mobile players can increase their ranking within the game by recruiting their friends to enlist, the more friends you recruit the higher your ranking goes. Battles happen every 24 hours and there are 31 battlefields with names like Shadap Bay, City of Anal Torture and Sweet Sucker's Execution Hall, and you get news updates of who has been promoted, how has died in battle, what battlefield has been captured and but which side.
The massively multiplayer online game or MMOG runs on mobile phones which are relatively rare in the MMOG space as most MMOG's such as Lineage 2, CounterStrike, and World of Warcraft are designed for personal computer use.
This particular campaign won the "Yellow Pencil" award at D&AD, so now all that's needed it to watch the video below.
Source — intomobile