Ericsson white paper details the XPERIA X1 further
One of the most much awaited mobile phones this year has to be the Sony Ericsson XPERIA X1, and everyone clamours for more information on this Windows Mobile phone. Sony Ericsson may well be a new entrant into the Windows Mobile world, but it is one entrance Sony Ericsson is serious about making it memorable. Some even believe the Sony Ericsson XPERIA X1 to be the single best Windows Mobile phone announced to date.
To add some more light on the much talked about Sony Ericsson XPERIA X1, Sony Ericsson has released a white paper which adds two very important details to the XPERIA X1 mix.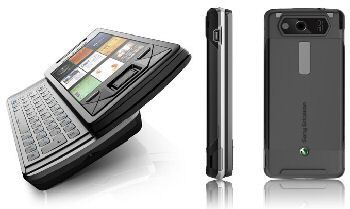 Once the XPERIA X1 is released, apparently in September, it will sport a high capacity 1500 mAh lithium polymer battery, which reportedly should give users up to 3.1 hours while making continuous video calls, 6.5 hours while using UMTS. Or 10 hours talk time on GSM. Another feature is to be 256MB of SDRAM along with 512MB NAND Flash, which would make the XPERIA X1, have the largest memory that any smartphone has: although we could be wrong with this, but I'm sure if anyone knows better they can drop us a line.
So there you have it, just a little more detail on the Sony Ericsson XPERIA X1 that you didn't have before, and of course any from information that may come our way will be passed on to you. And remember, September isn't that far away really, just be patient and you will get your Sony Ericsson XPERIA X1 mobile phone soon enough.
Source — engadgetmobile