Three Nokias Two Samsungs One T-Mobile and all before July
The word is T-Mobile have sixteen new mobile phones to launch between now and August, and five of those apparent sixteen are shown on Boy Genius Report who have scored the internal release info on two well known Samsungs the t229 and t339, and three Nokia mobile phones. So to keep our reader in the know, let's start with the Samsung mobiles.
The Samsung t229 becomes available in Jun and will only be launching in red, an entry level clamshell design handset incorporating some unknown pixel camera with 4x zoom, Bluetooth, and the usual array of low-end apps. The Samsung t339 fairs a little better offering WiFi for HotSpot@Home, and this time a 1.3 megapixel camera with video capture, music player, Bluetooth and microSD slot, and is available in burgundy for June 23rd.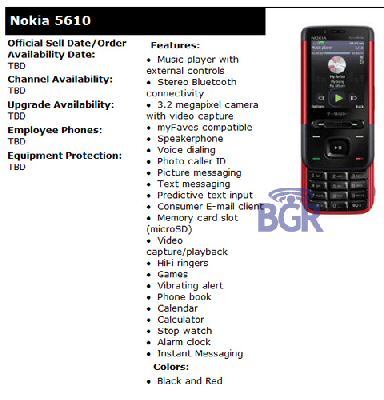 And now those three Nokias, firstly the Nokia 2760 clamshell, not really that impressive a mobile this one, has an unspecified camera with video capture, Bluetooth, and the usual stuff, comes in navy with silver and launches on 16th June. The Nokia 6301 has WiFi, Bluetooth, 2 megapixel camera with video capture, music player, FM radio, microSD slot, USB interface, comes in black and silver and will be launched on 23rd June. Finally the biggie of the bunch, the Nokia XpressMusic 5610 a slider mobile which has already been seen due to the FCC, with 3.2 megapixel camera, Bluetooth, music player with external controls, video capture and playback, games, microSD slot, available in black and red, but carrier and launch date is unknown.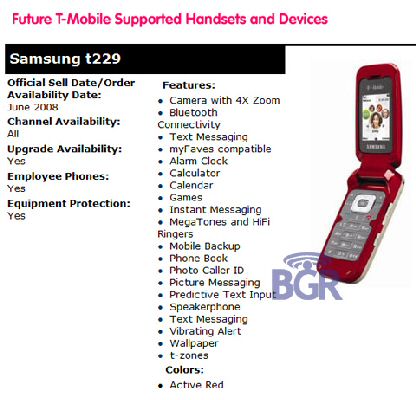 So there it is the five mobile phones coming your way soon from T-Mobile, and apparently with more to follow we'll keep you updated.
Source — BGR