Google show off Android based HTC Dream at conference: Video
Word is hitting the net waves that Google has pushed out a live demo of the much rumoured HTC Dream with its Android flavour while in San Francisco at the companies I/O conference. Reports intimate that the HTC Dream has an approximate touch-screen size of 3 inches x 5 inches and has a slider keyboard.
Not a great deal of information is available at present, but whisper is the HTC Dream will apparently pack an accelerometer that allows the user to tilt the handset to scroll across Google Maps or Street View. It does appear the Android team have been burning the midnight oil to bring the user inferface up to scratch as not to disappoint.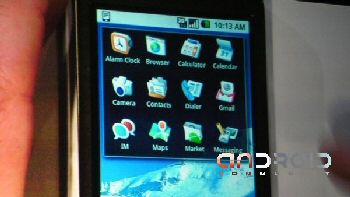 Once the HTC Dream hits the public it will have to contend with the big guns of the mobile phone assault this year, the Apple 3G iPhone obviously being the major contender, with the likes of the Sony Ericsson EXPERIA X1 and the Samsung TouchWiz chasing in the sidelines.
So we will just have to wait a while to see if the Google Android flavoured HTC Dream mobile phone really does hit the target and can stand up against all comers. Information and images will be passed on as and when we get them so keep an eye out.
Video demo below for your viewing pleasure.
Source — engadgetmobile