Nokia N96 expected on 31 July pre-order for $1200
The word is the sleeker successor to the Nokia N95, the N96, officially announced way back at the Mobile World Congress in Barcelona earlier this year is expected to be available by the 31st of July.
The Nokia N96 is the latest flagship NSeries mobile phone from Nokia and features a cool 5 megapixel camera with dual LED and auto-focus, quad-band GSM 850/900/1800/1900MHz, WCDMA 2100MHz, DVB-H mobile TV, GPS, and WiFi all wrapped up in a sleek gloss black casing that's sure to be a hit for Espoo.
Another good thing with the N96 is its kickstand located round its camera that allows the user to flip it out and prop the handset up while the user watches a video. Also the N96 dual slides like the N95 but has added gaming buttons, backlit keypad and bar shaped keys which means there isn't a great deal to stand in the way of the N96's success.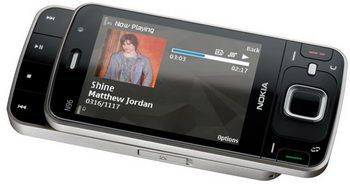 The online prospectors of launch dates, Play.com are predicting a July 31st release day on the Nokia N96, and already have it listed at a pre-order price of $1,200.00 or £599.99 in the UK, which to be honest to me seems quite steep, and at £600 for even the Nokia N96 I will be keeping my wallet closed.
Whether Play.com knows more than anyone else and is actually privy to the Nokia N96 release date I don't know, but until otherwise announced we'll go with July 31st.
Source — symbian-guru