Beta iPhoneBrowser for browsing your Windows Apple iPhone
So you want to browse your Apple iPhone, well iPhoneBrowser may just be the piece of mobile phone software you've been waiting for. iPhoneBrowser helps you better manage your Apple iPhone's file system especially if your Apple iPhone is running Windows.
iPhoneBrowser allows the user to browse their Apple iPhone files, they can drag and drop, copy and paste, and simply go wild in the iPhone files. Have a play to get used to browsing, sort your movies, upload new ones from and to your computer hard drives, rearrange music and images, and don't worry if you happen to foul things up a bit because iPhoneBrowser comes with a convenient backup system for such occasions.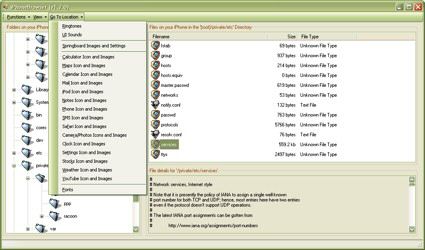 The iPhoneBrowser should work with most Apple iPhone's however an unlocked or jailbroken Apple iphone would be more preferable. The applications "Goto Location" menu can direct you to the folders containing photos, program icons, third-party applications, and more, if it works, but you can add your own favourite spots as well.
IphoneBrowser is still in beta so be careful with it, it's a free download for Windows only. If any of our readers do happen to download the IphoneBrowser software, once you've had a play with it drop us a line and let us know how you get on with it, you views on the good and the bad if any.
Source — mobilewhack