Patent for possibly the Nokia N85 video orientated mobile perhaps?
The tech guys at Nokia are always coming up with new schemes for being able to cram huge camera lenses into one of its small mobile phones, some inventive and some not. Nokia's latest venture appears in the guise of a patent which just may point the way to a possible upcoming video phone, which could possibly be the Nokia N85; this would undoubtedly give the current compact photo shooters a run for their money to say the least.
With the Nokia N96 not even on the shelves yet, could this possibly be its video orientated successor? Even better it could have a WQVGA screen, 5 or even 8 megapixel camera. All this is of course most conjecture at present, but judging by the image maybe Nokia could think about accomplishing this with a thinner mobile handset than that in the patent image.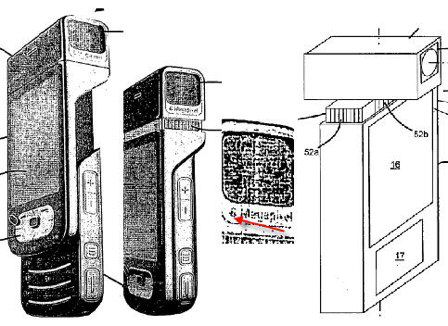 I guess with the advancements of the mobile phone camera and the up scaling of megapixels there must come a time when a camera just becomes a camera, and thus new areas are needed to be looked into. Once such area has to be video, the mobile video needs to be expanded further allowing the user to actually take good quality video which can last much longer that a few seconds or even minutes. What we now need is mobile phones that can actually record for as long as necessary rather than the short clips we have today, could this patent allow that?
Source — thenokiablog