Symbian 9 gains new fring 3.35 version get downloading fringsters
S60 phones can now update their fring to version 3.35 announced fring who have just release the new update. Fring is a free downloadable mobile phone app that allows free mVoIP, which is mobile VoIP, calls, live chat, and real time presence with multiple IM providers.
Fring users or as they have come to be known as "fringsters" mVoIP communicate with landline, mobile phones and other "fingsters" via SkypeOut and SIP providers along with PC contacts via Google Talk, MSN messenger, Skype, ICQ and Twitter all via a single integrated contact list.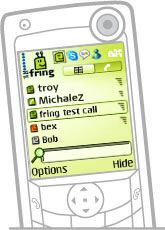 Fring for Nokia S60 devices has been de-bugged, enriched, and improved, and the changes brought with version 3.35 are apparently improved stability, significantly less interruption, logouts, better quality voice all round, an added speakerphone for Symbian 9.2 if you have it, file transfer enabled from Yahoo! and Skype allowing the swapping of music, images and video over 3G or Wifi from mobile to PC, mobile to mobile, and no need for Bluetooth, MMS, and cable or infrared.
The best way to update your mobile phone and fring version is to point your mobile internet browser at www.fring.com and download fring version 3.35 direct to your mobile phone.
So there you go all you fringsters out there in fring-land, new update for you to play with and do more with, and to our fringster readers, if you have any problems let us know.
Source — fring