HTC Touch Diamond not delayed according to Expansys: £494.95 buy now
It seems that the HTC Touch Diamond has not been delayed, well according to what I see on Expansys, because they have 6 in stock right now for £494.95, earlier on today they had 53 in stock, so this tells me they are selling fast.
The HTC Touch Diamond may not be official in the UK as of yet but it is clear that Expansys are selling them. Remember this thought, before you rush with that credit card of yours with all your hard earned cash you must know that this is all due to an exclusive distribution deal HTC signed in May with a company called Brightpoint in the UK, the Taiwanese company has said that any device bought through Expansys will not be covered by Warranty or come with HTC qualified support. We think this is all a massive plot to upset all you iPhone users waiting for the 3G iPhone alternative, what do you think?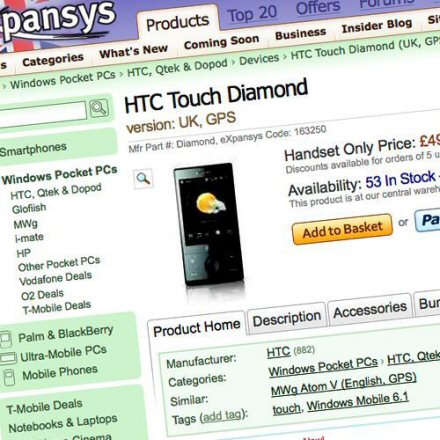 HTC have not confirmed when the handset will be ready for launch but rumours are suggesting the UK launch sometime in July. Anyway pop over to Expansys where you will see the HTC Touch Diamond on sale for £494.95. Opps it is more expensive then the new coming soon Apple 3G iPhone.