Is this possibly a shadow of a mobile phone? Perhaps the HTC Shadow II?
The FCC has just passed a new HTC mobile phone called the HTC CONV100, which may or may not be the rumoured HTC Shadow II for T-mobile. This rather grainy image somehow slipped past the FCC to reveal it has a BT antenna.
It does look suspiciously like the spy image we saw a while ago of the HTC Shadow II, and the obvious lack of WCDMA 850/1900 would seem to add weight to this suspicion. Although there is Bluetooth and Wi-Fi and with an improved 1100mAh battery. No doubt it is expected to run on Windows Mobile 6.1 too or at least should do.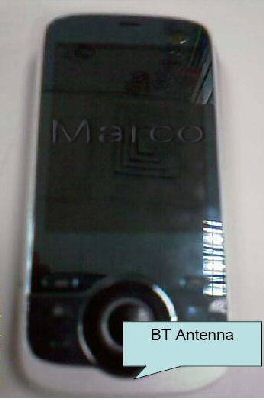 Apparently popular rumour has it that the HTC CONV 100 will become available in Asia, Africa, Europe, and North and South America when it does eventually show. The HTC Juno somehow ended up being the HTC Shadow last time, so it could easily make sense the HTC CONV100 mobile phone could well end up being the HTC Shadow II, and of course on T-Mobile.
Again, apparently the HTC CONV100/Shadow II will be available in two colours, black and white, very original, could do with a few extra colour variations there guys. And as yet it is still too early to figure an availability date for this one, but if it does turn out to be the HTC Shadow II expect to see it from T-Mobile quite soon.
Source — cellphonesignal