Bluetooth H560 and H620 headsets added to Bluetooth Collection by Motorola
Motorola has just introduced two new headsets to its Bluetooth Collection, the H560 and the H620, both Bluetooth headsets feature echo cancellation technology and noise reduction technology, and provide the prefect accessory to your Motorola mobile phone.
Firstly we have the Motorola H560 Bluetooth headset which features TrueComfort design which channels the audio straight into the ear, and has multiple sized ear pads to ensure a quality and comfortable fit. While the Motorola H560's EasyPair technology allows for simple pairing with over 200 mobile Bluetooth compatible devices. The H560 has a 3 colour battery indicator to warn the user of battery life.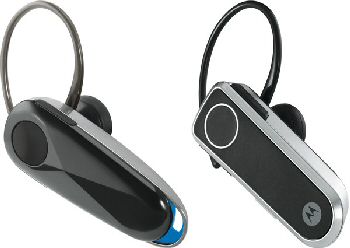 The Motorola H620 Bluetooth headset is the first Motorola Bluetooth enabled headset optimised for in-car use, and offers the user comfortable and clear hands-free conversations. Road noise whist travelling will no longer cause a problem with the H620's noise reduction and echo cancellation technology. Accompanying the Motorola H620 Bluetooth headset is a dashboard headset holder and a rapid in-car charger.
Both the Motorola H560 and H620 have the capacity to bring up to eight days standby time and up to seven hours talk time, and automatic volume adjustment. The Motorola H560 and Motorola H620 Bluetooth headsets are expected to become available sometime in the third quarter of 2008, although as yet no pricing has been confirmed.
Motorola official press release