How about some more detail on the LG VX9700 Dare?
There does seem to be loads of leaked information floating about the net these days what with Sony Ericsson and LG springing leak after leak, and now even more leaks out from the LG camp about their new LG VX9700 Dare mobile phone.
The LG VX9700 is the CDMA version of their flagship touch-screen handset and is for Verizon Wireless, its slick in design with real good looks. So here are a few more details on the LG VX9700 Dare that have found their way onto the net waves.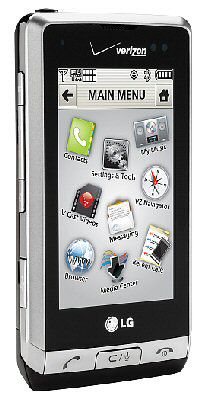 The Dare is to support EVDO Rev.A data; there will be a light sensor, an accelerometer, a proximity sensor for shutting off the LCD during talking, the Dare is to feature VGA video recording, there is an HTML browser, multitasking support, handwriting recognition, there is GPS support via VZ Navigator as well as Bluetooth 2.0 with stereo audio support, and microUSB port and microSDHC expansion slot and speakerphone.
So there it is a few more important details on LG's latest CDMA mobile handset. Also the LG VX9700 Dare is to launch online beginning 26th June with a full retail launch happening on July 11th. Hmm something is telling me something else is launching on July 11th too; maybe LG just may change the launch date though, maybe bring it forward a day perhaps, well that's what I would do.
Source — phonenews