Klausner Technologies settles with Apple AT&T and eBay
Monday, Klausner Technologies Inc said Apple Inc, AT&T Inc, and eBay Inc have all agreed to license its "visual voicemail" tech, and agreed to settle a lawsuit against them. Privately held Klauser didn't however disclose any of the financial details of the agreed settlement or licensing agreements, but did say they are in discussions with Cablevision Systems Corp and Comcast Corp to do with using their tech.
Klausner Technologies founder, Judah Klausner told Reuters: "The patent litigation with Apple has been settled. The patents have been licensed to Apple."
Klausner also stated that separate settlements and licensing deals have been finalised with Apple iPhone carrier AT&T, and with eBay concerning their Skype Web based calling service.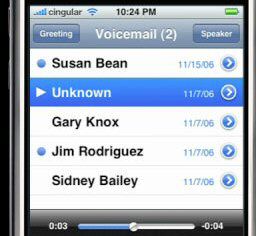 Existing Licensees of Klausner technology includes U.S. wireless carrier Sprint Nextel Corp, and Internet telephone company Vonage Holdings Corp.
Last December, Klausner sued the companies for the tune of $360 million for damages and future royalties for violating its patents on the tech which sends visual alerts to PCs and mobile phones when a user receives a voice message, and allows users to selectively retrieve those messages.
Source — reuters