Apple iPhone integration kit for Mercedes Benz Motors
The current iPod integration in the Mercedes Benz is a tad weak especially as the new COMAND multimedia system is so well constructed. However, things seem to be on the up as the Merc maker's newest Apple iPhone cradle will address some of the glaring issues noted and bring some interesting features.
The Merc's new Apple iPhone cradle looks to finally integrate iPod controls with the main navigation display and COMAND controller rather than relying on instrument display and steering wheel controls, and it will charge the iPhone whilst allowing the user to make a call and/or listen to music.

Also apparently the vehicles antennas will increase reception to the Apple iPhone, and the user will be able to access the contacts list, which some current Merc's will not allow. The Apple iPhone cradle is available now for the Mercedes-Benz C-, E-, CLK-, CLS-, S-, CL-, SL-, M- and R-Class, as well as for the forthcoming GLK-Class.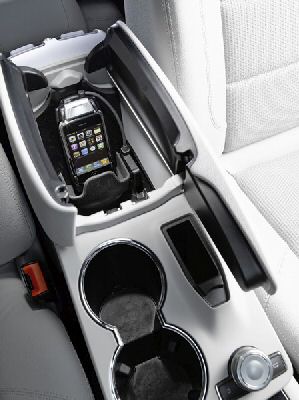 When the Apple iPhone cradle is installed the handsets music and call features can be access and controlled via the vehicles multimedia steering wheel control centre, and the vehicles display will indicate the Apple iPhones status.
If you are already an owner of the Mercedes Benz Apple iPod kit or Media Interface kit the adapters you will require will cost you in the region of €30.00 that's roughly $60.00, and the Apple iPhone Mercedes Benz cradle is now available in Germany with a price tag of €249.00 or $285.00.
Source — emercedesbenz