iClink Apple iPhone wireless sync service from CompanionLink
Mobile synchronization solutions provider, CompanionLink Software, will be releasing a wireless data sync service for the Apple iPhone called iClink. iClink will sync tasks, contacts and calendar between the Apple iPhone and popular contact management and CRM software like ACT! by Sage, IBM Lotus Notes, Microsoft Novell GroupWise, Outlook with BCM, Google Calendar, FrontRange GoldMine, and Palm Desktop.
With iClink Apple iPhone users will be able to access and edit their recurring appointments, calendar events, CRM contacts, and notes direct from their iPhone handset. IClink will wirelessly synchronise data with the desktop CRM software, while two-way sync ensures that data which may be modified in either on the Apple iPhone or in the desktop will remain in sync, this is because two-way sync between user's computer and iPhone happens through CompanionLink's secure servers.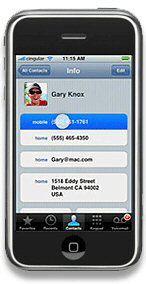 Director of Marketing at CompanionLink Software, Rushang Shah, said: "The iClink service opens up new functionality on the iPhone as well as a way to bypass the need to dock the device with a computer to sync data. Our service will play a pioneering role in allowing iPhone owners to access their ACT!, Lotus Notes, or Outlook with Business Contact Manager data on their devices from anywhere."
CompanionLink develops data synchronization solutions for PDAs, mobile phones, and CRM software. To set up your Apple iPhone you will need iTunes 7.3 or higher and Outlook 2003 or higher installed on your Windows-based computer. CompanionLink needs to be setup to sync your CRM contacts and calendar with Outlook.
The iClink will be available to purchase on the Apple App Store for the price of $39.95US on July 11th.
Source — macdailynews