Apple iPhone 3G will use new dock old version dock is useless
The word coming from an Apple store employee is we can expect to see all original first-gen Apple iPhone docks become mostly useless with the July 11th launch of the Apple iPhone 3G. Apparently "the iPhone 3G is shaped differently and doesn't fit in the same dock."
This smidgen of news isn't really surprising given Apple's fondness for continually updating their products, which in turn forces the consumer to pay up just to keep up. Although that doesn't mean everyone who owns a first-gen iPhone will want or even need to use the original Apple iPhone dock, but even if they wanted to use it, it seems they are completely out of luck, up the creek without a paddle so the old saying goes I believe.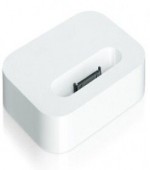 And well it's fairly obvious when people upgrade to the latest iPhone 3G and they want to shift their old version they'll probably include the iPhone dock with the handset, so it's not like we are going to see old iPhone docks masses piled and dust covered anywhere for generations to come.
So unfortunately, if you are one who has actually become accustomed to using the iPhone dock with your iPhone handset, you will most probably have to get used to the fact that unless Apple includes an updated version in the box, you will be shelling out more of your hard earned cash to purchase an iPhone 3G dock.
So what do you think will this dock incompatibility turn out to be a big deal, forcing iPhone users to cough up cash unnecessarily due to Apple's oversight?
Source — iphoneatlas