Become expressive enabled by Neon Sign mobile phones from Sky
Recently launched by Sky in Korea is the new "Neon Sign" HSDPA clamshell design mobile phone, and what catches the eye about this mobile is that it has 49 LEDs embedded in its front panel which quiet ingeniously can display different types of icon.
Furthermore the user can actually customise the LED notification, so what this means is say if your ex girlfriend calls you, you can have a big LED "X" to denote it's her, and warns you letting you decide whether you want to change answering or not.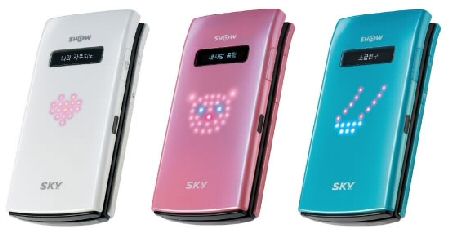 So other that a cool light up facia what does the Sky Neon Sign offer a user, well the mobile handset includes T-DMB mobile TV receiver, WCDMA global roaming and video telephony support, a 2 megapixel camera, electronic dictionary, media player and text viewer.
As for pre-installed applications on the Sky Neon Sign mobile phone the user can expect all the usual "mobile classics" such as contacts, calendar, calculator ect, while there is also mention of a multitasking functionality, which gives us at least the hint of a possible powerful feature phone platform.
The Sky Neon Sign mobile phone is available for around $400.00 to $500.00 USD, and the user can have the choice of black, pink, sky blue or white casings. The Sky Neon Sign, a mobile to light up you life just a little.
Source — slashphone