iPhone 2.0 Software does securely erase data, similar to Leopard's Secure Erase Trash
Many people have talked about the iPhone 2.0 Software saying that it does not securely erase user data when you select the "Erase All Content and Settings" well now Apple has taken that extra step forward and built a better and more secure data erase (Wipe) function into the next iPhone software.
Many of you will be getting ready to change your old iPhone for the all new iPhone 3G and software and of course you want the software to be running as smooth as possible with a the Erase All Content and Settings working true, the all new simple solution which is coming is that the iPhone 2.0 software now securely erases user data using a similar process to Leopard's Secure Erase Trash feature function of Mac OS X. It will un-link data and overwrite it with random bits, this will surely make life a lot easier and of course making your personal information impossible to recover.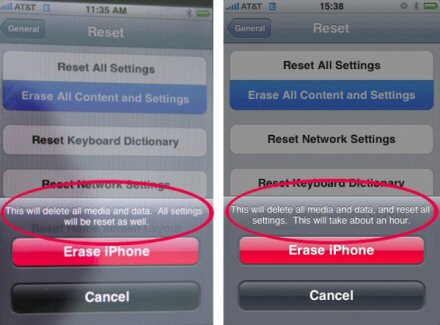 There have been some official statements that during its developer's conference the iPhone 2.0 software will be available on July 11 as a free software update; this update will be via iTunes 7.7 or later for all iPhone customers. We also have some news on a gold master version which may be provided to some Apple partners and employees as early as Friday. Come back to learn more about the gold master version.
Sign up to our free newsletter for updates.
Source — Apple Insider