Bring style to your iPhone with a MacBook Air Virtual Keyboard
They say a change is as good as a rest, and maybe you are getting tired of the look of your Apple iPhone keyboard, so how about a change? Steve Jobs has said the best keyboard Apple ever made is the MacBook Air's keyboard, and you know he' cares about the detail. So why not have that kind of keyboard on your iPhone handset?
Obviously having a MacBook Air keyboard on your iPhone you won't get the feel but the visual makes it all worth it. Katak has now made this happen allowing the iPhone user to replace their old default iPhone keyboard with an application that offers up a slicker, nicer, smoother MacBook Air style keyboard.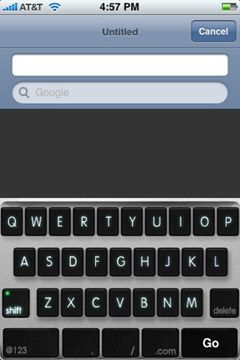 For you to take advantage of this new sleek and stylish MacBook style virtual keyboard application and install it on your Apple iPhone you will require a jail-broken iPhone, and firstly uninstall any other customised virtual keyboard you may already have installed.
The MacBook Air Keyboard application is available now from Installer.app through the Planet-iPhone source, which is part of Community Sources now. So hurry along and grab this great keyboard application and jazz up your iPhone to look like a MacBook Air. Who needs the tired worn out, rather boring old iPhone keyboard when you can easily have a newer stylish sexy looking one?
Source — just another iPhone blog