Are mobile coupons the next big thing on mobile phones?
Apparently the next big thing to hit the mobile scene is the mobile coupon, and Cellfire is right up there in the forefront of this rapidly expanding mobile market. Cellfire, the mobile coupon and discount offer service a little while ago introduced Cellfire 3.0, which is apparently even more powerful than before.
What does Cellfire 3.0 offer the customer? Here are a few things… Rich User Experience – filtering offers by category for easier finding of an appropriate deal; Seamless web-phone integration – you can browse, sort, and select Cellfire offers both online and using your mobile phone. Any changes made are simultaneously reflected across both platforms; Clip 2 Mobile Offer Discovery and Capture – allows users to discover mobile coupons featured by Cellfire advertisers within both interactive and traditional media. As they do, they can "clip" the mobile coupon with a simple command and the selected offer is automatically saved in the user's Cellfire Saved Offers page, where the offer can be easily accessed and redeemed in the future.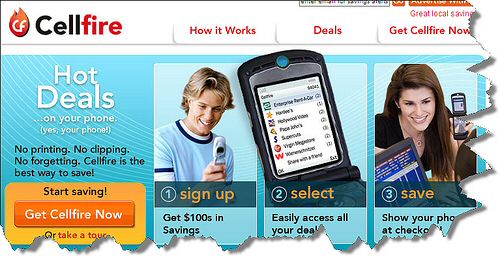 And what about the advertiser? The new Cellfire 3.0 version brings… One to One Offers – Advertisers can deliver unique offers to individuals that have previously interacted with their offers on Cellfire; Dynamic Targeting – Advertisers can target offers by age, gender, location and other attributes, ensuring their offers are most relevant to their intended audience; Mobilize Traditional and Interactive Media – allows merging of both traditional and interactive media to reach a wider audience. The advertisement source is tracked as consumers respond and capture offers, enabling advertisers to learn which advertisements are most effective in driving transactions.
If you are into mobile coupons then maybe Cellfire 3.0 is for you, it is currently available to more than 170 million mobile phones.
Source — intomobile