Does the HTC Diamond Touch the Apple iPhone 3G?
No matter how you look at it the comparison between the HTC Touch Diamond and the Apple iPhone 3G is always going to be there, so just how does the HTC Touch Diamond shape up against the Apple iPhone 3G?
The HTC Touch Diamond as the iPhone 3G is 3G with a touch-screen along with 4GB of storage, and being an elegant step up from the HTC Touch should be quite able to give the Apple iPhone 3G a race for the money as long as HTC can work with service providers to make sure they lower the price of the HTC Touch Diamond.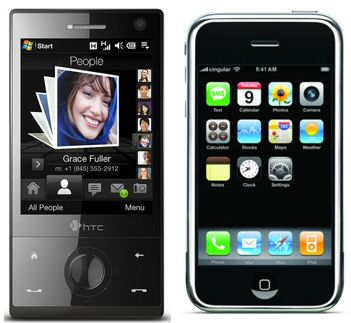 HTC announced a plan to sell the Touch Diamond in Taiwan for NT$2,999 that's roughly $99.00 US on certain 3G contracts from Chunghwa Telecom. This dramatic price drop from the original price of NT$23,900 roughly $786.00 US!
So it's shaping up that HTC is now preparing to offer the Touch Diamond for roughly the same around the world as long as they can strike a deal with service providers of course. The $99.00 US sure beats to a pulp Apple's $199.00, so the Touch Diamond should do well against the Apple iPhone 3G.
The Touch Diamond is a good phone with a superior camera than the 3G iPhone and other extras that will help make it a good rival, as long as HTC is able to spread its new Taiwan price of US$99 to other parts of the world.
What is your view, would you prefer the HTC Touch Diamond over the Apple iPhone 3G if the price is right?
Source — pcworld