Dealers and Buyers in Asia waiting for iPhone 3G to go underground
Apple roll out their iconic Apple iPhone 3G today, and already dealers and buyers are anticipating seeing the latest mobile handset from Apple in Asia's thriving underground marketplace is as little as a couple of days!
Apparently electronics markets across Asia are actually preparing for an influx of iPhone 3G's. In the Chinese territory ads pitching services to unlock iPhones and unlocked iPhones were everywhere in a shopping mall with three floors of mobile phone stores.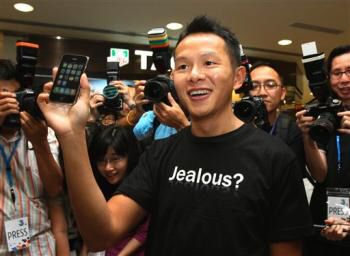 One shop owner, Chris Lau, said he's already taken 40 orders for the new iPhone 3G and said he estimated the iPhone 3G's arrival on the grey market in roughly a week's time. He said: "I'm not 100 percent sure the stocks we are receiving will be unlocked, but I don't think it will take long to crack it."
Candice Lam was among those considering a gray-market purchase, and said: "Some of my friends are already using it. I want to have one myself, the 20-year-old university student said while browsing phone shops. I already have a contract with one operator. I don't want to sign another just for a phone."
The Beijing Nurenjie shopping complex, a known centre of sale for smuggled iPhones did not have any for sale at the moment. However demand is high and some say unlocked iPhone will fetch as much as $700.00 once available.
Apparently many people have contacted Xiaowei Telecommunications asking for the iPhone, Chang Wei of Xiaowei Telecommunications had to answer: "We simply don't have the merchandise,"
However, online auction sites, were offering the iPhone by midday for those willing to pay. Sellers on one mainland China site, taobao.com, were actually asking nearly $1,400 for the 16GB version.
Unfortunately, Apple representatives and its service providers in Hong Kong and Japan declined to comment on the gray market or discuss any countermeasures they might take.
Source — AP