RIMs BlackBerry Thunder touch-screen thunders into the wild
You know what, the iPhone 3G isn't the only mobile phone in the world, and probably most are fed up with hearing about it. So here's some non iPhone 3G related news for you BlackBerry fans out there. Research In Motion's answer to that pesky old iPhone 3G is the BlackBerry Thunder.
And just so you don't forget about what is becoming available Research In Motion had let loose a few pictures of the up and coming BlackBerry touch-screen Thunder handset. No nasty mock-ups here, these pictures are the real deal.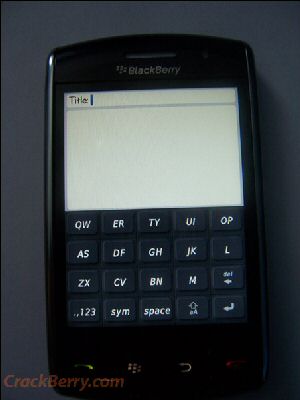 Live images of the Blackberry Thunder showing its rumoured buggy UI on that big big touch-screen. The pictures do look real. So with all that hoo-hah with the iPhone 3G maybe we should remind you about the RIM BlackBerry Thunder's specs.
The Thunder will be packing Research In Motion's new BlackBerry OS 4.7 with localized haptic feedback system that vibrates a specific region of touch-input rather than vibrating the entirely device. There's a full QWERTY keyboard and SureType entry.
The Thunder totes a glass screen and the virtual keys which produce an audible click on being pressed while the glass allowing for multi-touch interaction. The screen is big, almost as wide as it is tall, so bring on the Thunder RIM, there's plenty waiting.
Source — crackberry