Ad supported apps allowed on Apple App Store?
There are plenty of free iPhone applications at Apple's App Store, but that doesn't mean the poor developers who developed them needs to starve because Medialets, a nascent start-up which specifically targets iPhone Devs offers cookie-cutter code which can be inserted into applications at add the odd advert.
Adverts may be mildly annoying, but if it puts much needed cash in the developers pockets all the better. But what is surprising the most about this enterprise is that it appears Apple is cool with the idea!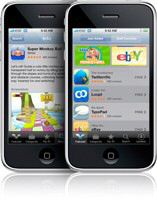 Yes I know that comes as a shock as the Apple App Store distributes free apps without charging the developer anything, presumably under the assumption that the whole ordeal is not-for-profit.
However, this assumption suddenly gets turned upside down when Medialets steps in and actually cuts Apple completely out of the revenue share.
Now what would be a good idea is to have two version of the app, one carrying a full price tag while the second could be ad supported but free. Good idea yes?
Source — moconews