Nokia Chat knows where you are in real time!
Location, location, Location, it's all about location these days. Services such as Whrrl and Loopt are trying to crash through the doors of a potentially new market by attempting to convince mobile phone users that it is absolutely necessary and extremely cool for your friends to know exactly where you are no matter the time.
Sod the privacy thing, and could well be potentially scary to say the least, but we have to see there are a few potential benefits, and if you can push the security and privacy details to one side it could be a big thing.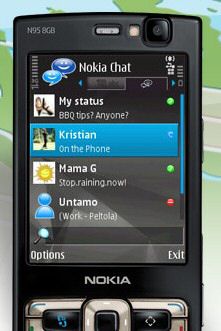 Nokia is now diving into the waters with Chat, which is an IM client that's presently in beta which will integrate a user's contact list and will allow selected friends to view one another's whereabouts in real time.
That's kind of novel but there's more, the application also allows the user to mark off landmarks which will then automatically trigger off messages to your friends with absolutely no involvement by the user with the handset.
Not bad if you can get passed the fact of your friends knowing your every move. Smacks of a Big Brother to me!
For video on Nokia Chat see here