Will new Apple iPhone 2.0.1 OS Fix bugs in current 2.0 firmware?
We all know that the current iPhone 2.0 as some major flaws like freezing devices, prolonged apps opening up etc, you get what I mean. Well you will be happy to know Apple is testing a brand new OS.
Apple is testing iPhone 2.0.1 OS which is the all new firmware that they have in the works. The current 2.0 update has only been official for about a week and Apple is quick of the mark by testing another.
We have seen a screenshot that clearly shows iPhone 2.0.1 OS up and running on an iPhone via Apple Insider, apparently all original iPhone devices will be working with iPhone 2.0.1 OS build 5B101 and the iPhone 3G devices may possibly be running iPhone 2.0.1 OS build 5B103.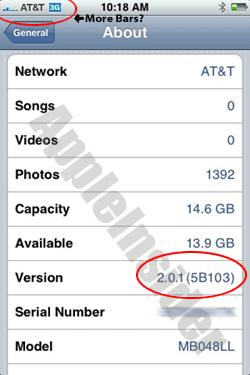 Hopefully with all the mayhem flying around at the moment with iPhone 2.0 maybe the all new Apple iPhone 2.0.1 OS will bring some bug fixes (Here is hoping hey).
No one knows other than Apple what this new firmware will bring us, it may possible bring bug fixes, additional features and much more, but then again it might be just like the last firmware update which could bring even more trouble, who knows.
What would you like to see come from the all new Apple iPhone 2.0.1 OS?