Phones Review now compatible with mobile phones
We have just made an update to Phones Review, you can come online via your computer and see our site all looking good but we felt that all mobile phone users should benefit as well.
A mobile phone site that can be seen neatly on a mobile phone is something we thought you should have.
We decided on this option for Phones Review because looking on a number of mobile phones looking at our site looked horrible and took ages to load up on the screen. Here is a screenshot below.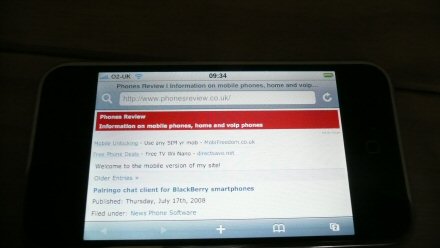 Well now things are so much faster and the site definitely looks neater when looking at it on mobile phones, easier to open, easier to see and most important you can now come online via PC or Mobile.
All you need to do to see Phones Review on your mobile phone is simply type www.phonesreview.co.uk on your handsets browser.
Oh and please do let us know if you have any ideas to make it look better, and of course let us know if you like the mobile phone version of Phones Review.
All the best and we thank you so much for coming to Phones Review, we are so happy you keep coming back.