CheckWord iPhone app beats the Scrabble cheats.
Are you an avid scrabble player, when you play do you always find someone trying to pass off a word you know full well isn't legit? Always wanted to be able to prove to them they are wrong but have never had that great a vocabulary to pull it off?
Well now you can put them in their place without the need to find a dictionary and flick through it page after page, because there is CheckWord.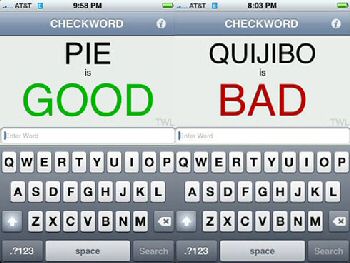 With CheckWord, the Apple iPhone and iPod Touch application the user can quickly look up any word that is questionable before that challenge the player about its validity.
No more will you become embarrassed when you challenge a mate only to find you are in the wrong, and well as Doc macenstien puts it…"CheckWord references either the TWL (Tournament Word List) Dictionary or the SOWPODS international Scrabble word list to verify a word's validity."
Source — macenstein