Motorola Adventure V750 works hard plays hard on Verizon
Verizon Wireless along with Motorola have announced the Motorola Adventure V750, a rugged push-to-talk mobile phone which has been designed for extreme conditions has become available through www.verizonwireless.com.
The Motorola Adventure V750 has been constructed with the highly mobile and active person in mind.
A feature rich mobile handset that offers a reliable solution for Verizon Wireless's push-to-talk customers and brings the high speeds of Verizon's Evolution Data Optimised (EV-DO) Revision A (Rev.A) network.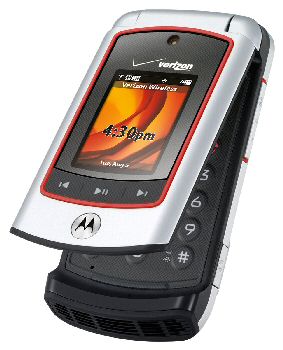 Motorola's Adventure V750 actually meets military specifications for extreme conditions which include shock, dust, solar radiation, vibration, high temperature storage, low and high temperature operation and altitude.
The V750 specs are impressive too with a 2.2 inch high resolution internal display and 1.6 inch internal display, non-slip surface, V CAST Music with Rhapsody, Dedicated external music keys, Stereo Bluetooth, Mobile IM and chat capabilities, Mobile Web — customizable, Media Centre, V CAST Video, 2.0 megapixel camera, 2.5 mm headset jack, microSD slot.
The Motorola Adventure V750 is available for $99.99 after a $50 mail-in rebate on a new two-year customer agreement.