BlackBerry Media Sync puts your iTunes on your BlackBerry
Research In Motion has announced the release of BlackBerry Media Sync, and is now available to download to your BlackBerry handset such as the BlackBerry pearl, the BlackBerry curve, and the Blackberry 8800s.
Actually BlackBerry media Sync covers pretty much every mobile handset to come out of Waterloo based Research In Motion.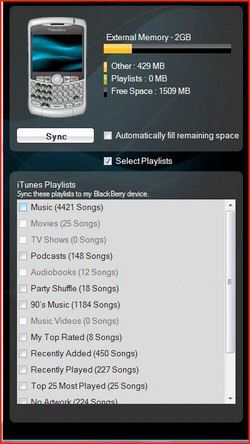 With blackberry media Sync, Blackberry owners can now grab their desktop iTunes and shove them on their BlackBerry handset, although DRM'd tracks are naturally off limits.
For you to use the free download at BlackBerry, you will require iTunes version 7.0 or higher, microSD card, and BlackBerry device software v4.2 or higher.
Although, I always believed Blackberry business types were always too busy with corporate lunches and the like to be actually taking advantage of music while on the move! Still I guess even BlackBerry owners are allowed some little down time.