Tag Heuer Meridiist mobile gains FCC approval for US
Most mobile device at some stage go through FCC rigorous tests in their labs, and even under their harsh spotlight the Tag Heuer Meridiist mobile phone demands some serious attention.
Although I for one won't be purchasing this solidly built, shiny finished Tag Heuer Meridiist mobile handset with stainless steel and Sapphire Crystal screen simply because I personally don't think it is worth the enormous $5,000 price tag.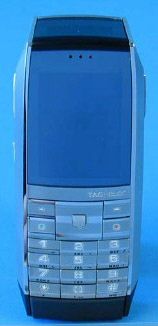 However, for those who have an abundance of the green stuff to throw away, the FCC have just approved the Tag Heuer Meridiist mobile handset for the US.
Each and every one of those 5,000 notes will get you a Tag Heuer made Meridiist mobile that holds a feature set straight out of 2001. Features such as sapphire Crystal display screen, 1.9 inch QVGA display, 2 megapixel camera, OLED 96X76 pixel secondary display, leather trim, metal casing and Bluetooth.
Other than that, there are far more worthy causes out there that could actually make good use of your 5,000 greenbacks.