eBay auctions off unlocked Apple iPhone 3G?
Well I guess it was only a matter of time really, anyone can purchase virtually anything on eBay, and so it doesn't really come as a shock to now see an Apple iPhone 3G fully unlocked and up for bidding.
This news via Cellphone Signal follows on from earlier news that unlocked Apple iPhone 3Gs were on offer from Hong Kong retailer Alibaba (see here) and now a slightly higher priced unlocked iPhone 3G hits eBay.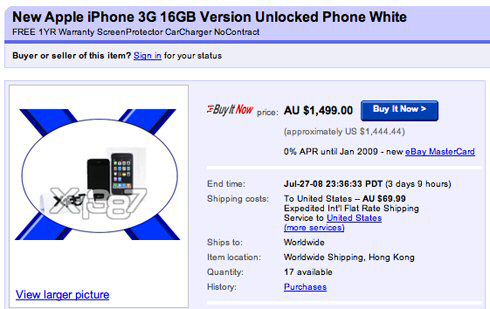 We have heard of SIM based hardware unlock, the Pwnage Tool 2.0 is available but is lacking an iPhone 3G unlocking tool, so does this iPhone owner selling on eBay have some miraculous link with insider help on unlocking the iPhone 3G?
Maybe it's an unlocked iPhone 3G from Europe! That we can't be sure on, but we won't be bidding on this iPhone 3G unlocked or not, especially with the eBay "Buy It Now" price sitting comfortably at almost $1,500.