Amosu Ultimo Diamond is most expensive Old School Apple iPhone,
The Apple iPhone 3G is out and is very popular and very hard to get hold of, but the talk at the moment is not the 3G but the most expensive old school Apple iPhone, you know the old one without 3G or GPS.
Welcome to the all new Amosu Ultimo Diamond, the Amosu Ultimo Diamond to us is more like the ugliest iPhone in the world.
Technology! Forget that, Looks! Forget that as well because it is hideous, the Amosu Ultimo Diamond iPhone is for the mega-rich and with a price tag of $177,300, you have to be either rich or totally thick to buy it.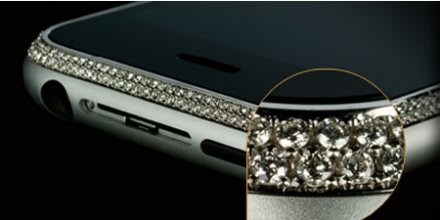 The Amosu Ultimo Diamond has 1,179 diamonds weighing in at a whopping 16.18 karats. This phone has been splattered with so many diamonds that each individual iPhone is a custom handset.
The brilliant movie "Blood Diamond" comes to mind here. Anyway, if you have the money and funny eyes then buy it.