Get rugged with the Casio G zOne Boulder from verizon
Verizon has finally released their much anticipated successor to their ultra rugged Casio G'zOne push to talk mobile handset, the Casio G'zone Boulder mobile phone.
Intomobile has snapped Verizon's online web store offering up the Casio G'zOne Boulder at a cool price of $129.99 taking into consideration a 2 year contract and online discount.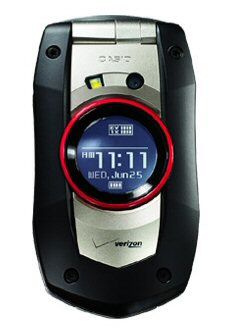 Also Verizon have the G'zOne Boulder on shelves at their street stores for a price of $179.99, and available in black-on-silver, but other colours will probably follow.
Spec update wise the Boulder is seriously eye catching along with military type dust, shock, and water resistant, with push-to-talk on the EVDO Rev.A, 1.3 megapixel camera and slimmer profile.
So if you are one of the water borne, sand storm, rough and tumble types out there that need a compliant mobile phone, the Casio G'zOne Boulder is one rugged handset that should suit the job nicely.