CellSpin for Apple iPhone and iPod Touch at App Store: Video
CellSpin now has support for the Apple iPhone, users of the Apple iPhone and iPod Touch will now be able to capture text, photos, audio, or simply select existing media on their iPhone and publish to their favourite social networking, photo sharing, auction site, and blogging site all simultaneously.
Intomobile has the latest scoop on what you get with CellSpin suck as… Use MySpace and Facebook MoBlog application from CellSpin; Use CellSpin as a Voice Notes application; Record audio conversations and embarrass friends; Securely post audio, photos and text to live eBay auctions.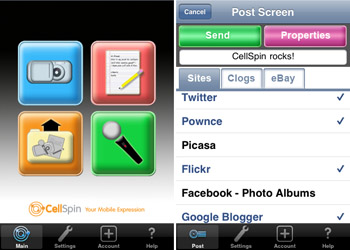 Other goodies with CellSpin are… Share media on CellSpin's community blogs, called 'clogs, on various topics; Record and send voice meeting minutes instantly to a web blog; Podcast with a click of a button; Record and post live events to become a mobile citizen journalist; And create your own novel, fun and profitable uses.
CellSpin is available at the Apple App Store as a free download. Video demo below.