Apple iPhone voice dial app at App Store
A third party voice dialling app for the Apple iPhone has made it to the Apple App Store; the app enables the user to record their voice and assign it to a contact.
Voice Dial by Vincent Verweij, allows the iPhoner to dial numbers without looking at the iPhone screen. According to the iTunes App Store the software has been tested by professional technology writers and they have found it to work flawlessly.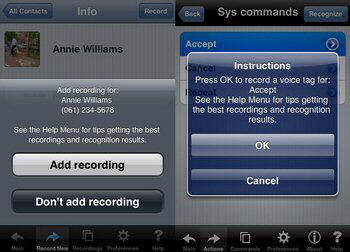 Voice Dial for iPhone chats $25.00 which considering it's via the App Store is somewhat expensive.
Having read the post on gizmodo, I clicked the link just out of interests, my iTunes opened up with the relevant app advert. I noted that there are 4 reviews on said application that go like this…
Rubbish, no refund available. The iPhone needs voice dialling, but this is not a working solution.
The iPhone needs voice dial, I really wanted this app to work, and unfortunately it doesn't for me.
Poor solution that costs a lot of money!
Useless!
Anyone who purchases this app and finds it good or bad feel free to let us know.